October 22, 2013, 2:00 pm (Eastern)
Event Status: Not In Progress
Duration: 60 Minutes
Host: Kirk Trachy
Description:
This is a FREE event -- Also: See Tweet Bonus and Free Book Offer Below! --
New behaviors and technologies are entering our workplace and organizations are starting to adapt. In a few years, Millennials are going to make up the majority of the U.S. workforce. These are people who grew up using social and collaborative tools to collaborate, communicate, and engage with each other. Unfortunately our organizations still use legacy technologies, have employees working 9-5 in a cubicle, and we still get 150-200 emails a day! This way of work is dying and a new collaborative workplace is emerging. But what does this look like and what do employees need to do to adapt?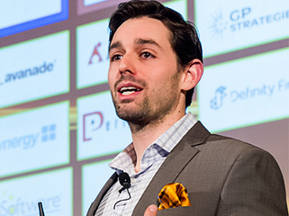 In this session Jacob Morgan, principal and co-founder of Chess Media Group and Forbes.com contributor, will explore these topics to help make sure you have the skills to adapt and succeed at work.
Why you need basic project management skills and how to improve them
The importance of leadership skills in today's workplace
How to flex to more flexible work environments
How you manage your projects and process matters more than ever
Keys to sharing data and information effectively
Following Jacob's presentation, Kirk Trachy, business productivity consultant from Intuit, will show you how you can implement some of the ideas Jacob shared within a collaboration tool like QuickBase to improve the way you and your team get work done.
TWEET BONUS: 150 attendees will be eligible to receive a FREE copy of Jacob's book, The Collaborative Organization: A Strategic Guide to Solving Your Internal Business Challenges Using Emerging Social and Collaborative Tools. Be entered in a separate drawing to increase your chances of winning by tweeting the event!
About Jacob
Jacob is the principal and co-founder of Chess Media Group, a management consulting and strategic advisory firm on the future of work and collaboration. Jacob is also the author of the Amazon best-selling book, The Collaborative Organization which was published by McGraw Hill in late 2012. The Collaborative Organization is the first and only comprehensive strategy guide on emergent collaboration in the workplace and has been endorsed by global leaders such as the CIO of the United States of America, CEO of Unisys, CMO of Dell, Chair of the MIT Sloan Management Review, CMO of SAP, CIO of ManpowerGroup, the founder of Craigslist, and many others. Currently he has a column for Forbes where he covers the future of work and collaboration and runs the popular blog TheFutureWorkplace.com. Jacob has been featured in outlets such as the Wall Street Journal, INC Magazine, USA Today, Fast Company, CIO.com, Information Week, Mashable, and many others. You can connect with Jacob on Twitter @JacobM
Registration is required to join this event.